Certification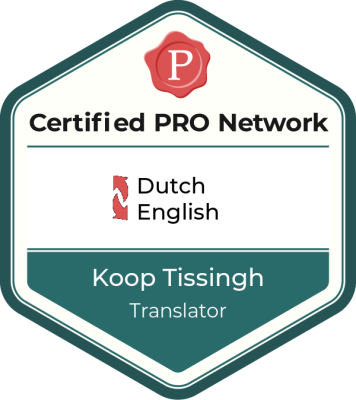 Translators who have good professional knowledge and integrity can obtain the "Certified Pro" quality mark via the international translators network Proz.com. A "Certified Pro" complies with the EN 15038 norm, i.e. the European quality mark for translation agencies. A sample translation and peer review are part of the screening process. A "Certified Pro" is also tested for his business reliability and good conduct. You can read our privacy statement here.
Certified translator
The Dutch>English and English>Dutch translations of A&E Translations are made by Koop Tissingh. He is a graduate of Groningen University with a Master's degree in English Language and Literature, and has been registered as a certified translator at the Groningen district court under number 327/88, and in the Wbtv Register under number 2373.
NGTV/FIT member
A&E Translations works in compliance with the code of conduct of the Netherlands Association of Interpreters and Translators (NGTV), which is affiliated with umbrella organization FIT. This means that strict confidentiality is observed, and that commissions are only accepted if the required expertise is present. This expertise is kept up to date on a continuous basis.
Trade Register
A&E Translations has been registered as a business in the Groningen Trade Register under number 02061620. The General Terms and Conditions of A&E Translations have been filed with the Groningen Chamber of Commerce under number 3153.